Emmalynn Zay, a female human bard/warlock, is a Knight of Waycrest and close friend of Aeliyana.
Originally from Thay, Emmalynn traded her fertility to save her husband's life. However, the husband returned to life much different than before, and left her for a mysterious lover.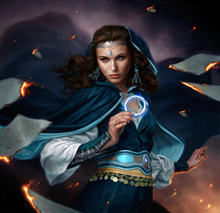 Emmalynn then made a pact with the demon Nedamis, swearing vengeance on her unfait
hful husband and hunting him across the realms. However, the demon led her instead to Waycrest, where she was to spy on Aeliyana and Aeris and keep them from discovering Nedamis's plot.
However, Emmalynn renounced her demon after Aeliyana saved her life, losing her arcane abilities. She instead devoted her energy to Waycrest and joined Aeliyana on her quest into the abandoned underground kingdom of Argola.
Community content is available under
CC-BY-SA
unless otherwise noted.